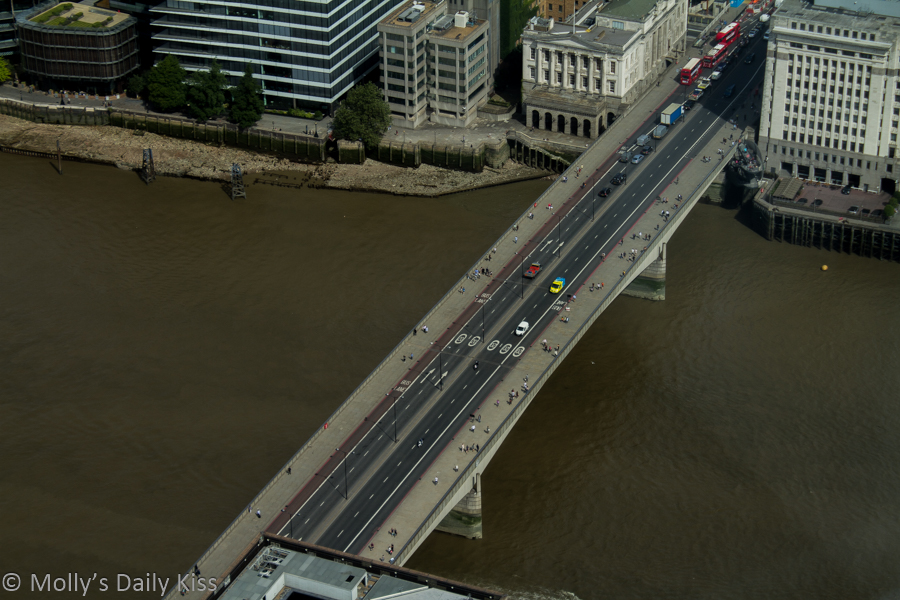 "London Bridge is falling down,
Falling down, falling down,
London Bridge is falling down,
My fair Lady."
Except it is not. Well not anymore. Although it has a long history of being in poor disrepair. There have been at least 4 bridges on this sight over the years, that does not include the old Roman bridge that was also thought to be roughly at this point. The first official bridge was open in 1209. The cost of building it had been so high that King John sold of plots along it for people to build homes and shops. By the end of 1358 it was jam packed with 138 different shops. Those wooden building were a huge fire hazard and it on a number of occasions fire destroyed parts of it including one time when fire started at both ends of the bridge trapping people in the middle. By Tudor times there were some 200 buildings on the bridge some of which stood 7 stories high. In 1758 all the building were finally demolished and the centre sectioned widened to allow more and bigger river traffic to pass. Amazingly that bridge stood for over 600 years.
In 1831 it was finally demolished when the new London Bridge was built alongside it. By 1896 the new bridge had become the busiest and most congested point in London. Sadly it was also sinking. By 1925 the east side had sunk by 4 inches and sat significantly lower than the west side. However lack of money and 2 world wars meant it would have to struggle on until the 1960's.
In 1967 a member of the London council, Ivan Luckin, suggested that they put the bridge up for sale. He was widely denounced but they did it anyway and surprisingly on 18 April 1968 it was purchased for US$2,460,000 by an American, Robert P. McCulloch. It was taken apart brick by brick and each piece was numbered. It was then shipped to California and then trucked to Arizona. It was rededicated in 1971 and spans the Bridgewater Channel canal that leads from the Uptown area of Lake Havasu City. It is widely believed that McCulloch thought he was buying Tower Bridge but Luckin who sold the bridge always claimed this was not true.
The current bridge (pictured) was opened in 17 March 1973 by Queen Elizabeth II and cost 4 million pounds. It was paid for by Bridge House Estates charity. In 1984, the British warship HMS Jupiter collided with London Bridge, causing significant damage to both ship and bridge. On Remembrance Day 2004, several bridges in London were furnished with red lighting as part of a night-time flight along the river by wartime aircraft. London Bridge was the one bridge not subsequently stripped of the illuminations, which are still regularly switched on at night.
To this day it remains one of the busiest bridge crossings on the Thames both to road and foot traffic as it links the busy London Bridge station to the City of London, the heart of the financial district and so in the morning and evening commuters pour over the bridge to and from the station to work.
I took this picture from the viewing platform in the Shard, a skyscraper that sits almost above the London Bridge train station and affords magnificent views over this great city.